Major Bummer Dude: Lassi Quest RON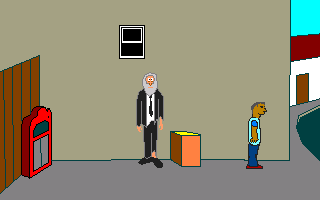 Download (696 kb)

Two classic AGS characters star in their very own RON game. Lassi has been transported to Reality by some strange being named Visy. You must help him find his pal Roger and get back home.
Comments:
Those who have not played the original "Lassi Quest" (and the subsequent non-interactive games) probably won't "get" this game. However, those of us in on the joke might find it very funny indeed.
In-jokes aside, it is a solid game with some nice dialog, albeit slightly marred by a few gameplay issues (like lack of scaling) and a "huh?" type of ending.
Details:
Created By: Visy
Date Released: Tuesday 11th November 2003
Game Engine: AGS

Playable character:
New characters:
Featured characters:
Chef Lucca
Crazy Homeless Weirdo
Davy Jones
George Watstatt
Melt & Drake
Mika Huy
Vicks Vapourrub

Walkthrough:
Screenshots:
Awards: