The Underworld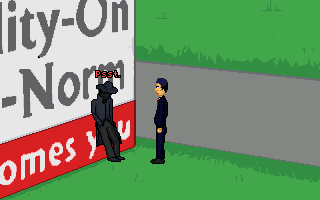 Download (690 kb)

You're Frank Malone, the best and only mobster in RON. Mayor Gower hires you to be his bodyguard, a job simple because you're the only one in town that would attack him in the first place. But soon, your evil twin brother Fred comes into the picture. Fred's a little peeved that you sent him to prison, and he wants a little revenge.
Comments:
A nice game with some funny character bits, but it feels very empty in places and seems like it was rushed. -Dave
Details:
Created By: Kunafits
Date Released: Monday 9th December 2002
Game Engine: AGS

Playable character:
New characters:
Featured characters:
Death
George Watstatt
Michael Gower
Phil Nihilist

Walkthrough:
None available.
Screenshots:
Awards: