Return of Die Vie Ess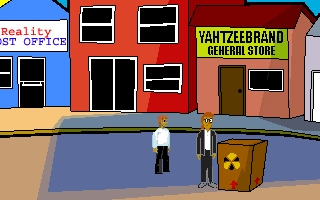 Download (812 kb)

A mad scientist has come to Reality, with plans to take over the world. And yes, he has a hideous manservant named Kyojo. You play the nameless law enforcement agent who must intercept a delivery of nuclear weapons. An extremely short but sweet game.
Comments:
Details:
Created By: Mike Davis
Date Released: Tuesday 29th May 2001
Game Engine: AGS

Playable character:
New characters:
Dr. Die Vie Ess
Kyojo
Nameless Law Official

Featured characters:
Walkthrough:
Cycle right-click mouse cursors and perform the following actions to complete the game. This walkthrough was created to maximize brevity and enjoyment - there are more interactions possible that add to the richness of the game.
Enter the Yahtzeebrand store.
Take the laxatives, the Popsicle mould and the clipboard. Use the laxatives on the Popsicle mould then use the mould on the freezer. Leave the store.
Talk to Davy Jones, then offer him the laxative Popsicle. Leave the screen to the West.
Knock on the door and give to man the delivery form on the clipboard. Leave to the East.
Replace the box with the box you just received.
Screenshots: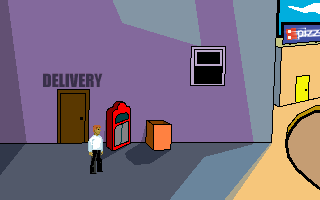 Awards: